Business information, as at week ending 12 Nov. 2021
All areas of our business remain open as normal to customers who wish to call in, or just make contact by phone or email. Please be aware of our continued requirement for all visitors to wear masks when inside any building in Powercut, or our associate business, Powerpools. As always, we will do our best to respond to your needs, covering parts supply, scheduled and emergency maintenance, new or secondhand equipment purchase and so on.
As promised, Powercut is pushing forward its plan to be the major centre in South Wales for horticultural equipment powered by robotics and renewable energy sources. This is a much greater commitment than just opting to sell machines that run on batteries. To maintain our lead in the industry and the trust of our customers, we continue to invest in our technical capabilities and in the knowledge base required by our staff in this area.  This year, our introduction of a speciality Robotic Mowers team, along with the superb Ambrogio and Belrobotics range has proved to be a remarkable success. Our many unique and dedicated grassed areas that are now devoted to showing robotic mowing in real life have been seen by many hundreds of customers.  The "way-ahead" capabilities of our Pellenc commercial grade battery powered hand machinery also astounds our new users. As per the last 35 years, we continue to prove our claims by getting out there and using the kit. If it won't do what we say it will, you get your money back.
In 2022, we will be introducing further options in electric vehicles and tools, with off-road and road-legal trucks, motorcycles, commercial backpack and handheld equipment - all from highly innovative manufacturers.  Then, there's our launch of new remote control mowers…..  exciting times!
John Deere X950R – Used 2014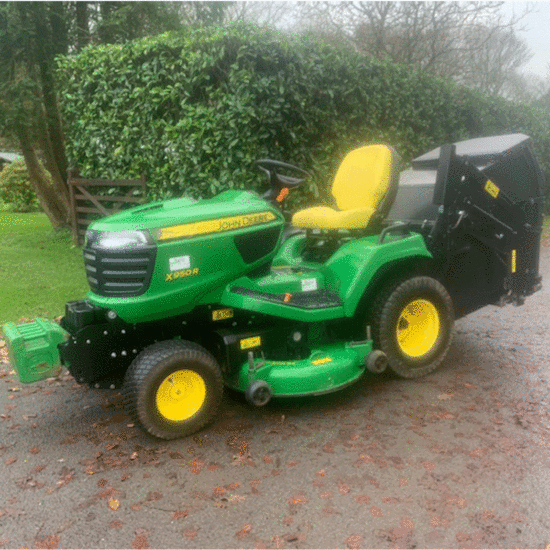 | | |
| --- | --- |
| Brand | |
| Category | |
| Cutting Diameter | |
| Fuel Type | |
| Displacement (cc) | 1100 |
| Year | |
| Hours of Use | |
£

13,000 ex. VAT
More Info