What ride on lawn mower should I buy?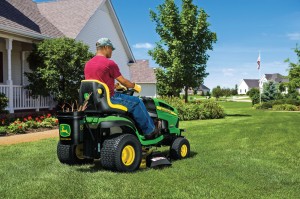 You have a large area of land you need to care for and have decided that you need a ride on lawn mower to help with it. But with all the options out there, where do you start when it comes to deciding which ride on mower is right for you?
With such a large range to choose from, there is unquestionably a ride on lawn mower for every gardener, ground person or contractor need, even if finding the right one to suit your needs can seem like a minefield.
At Powercut, we only sell what we believe to be the best. That is why we are West Wales' official John Deere suppliers. Not only do we sell the best of brands, but we understand that to have the best, each customer needs the right individual lawnmower for them. And to find out what mower is best to meet our customer's needs, we have some key questions for each customer to consider:
What lawn finish do you want to achieve?
Do you want a rough mown look or a manicured lawn? Perhaps somewhere in between?
Do you want the grass collected off to stop visitors bringing freshly mown grass into your caravans or hotel? Or perhaps it suits you to leave some mulch on the ground after cutting? Are you going to be tackle an overgrown field that you simply want to make more manageable? Or do you need the best cylinder mower to give your golf course or bowling green a perfect finish?
The purpose you need a ride on mower for and the finish you want to achieve will help us to help you know which ride on mower is best for you.
How big is the area you want to mow?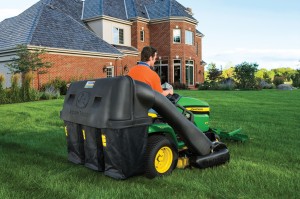 We sell to individuals with large gardens as well as to commercial sites with acres of sports fields, caravan sites and schools with extensive grounds to keep up.
The size of the area you will mow and the frequency with which the mower will be used helps determine which machine you need to get and what fuel type that machine should be.
For example, you may think you need to invest in a diesel engine for fuel efficiency but we can help you decide whether a petrol lawnmower will be sufficient for the amount of work your mower will do and still cost you less long term than going for a more expensive diesel engine.
What is your lawnmower budget?
Whether individual or commercial, everyone has a budget, and it is about finding the best machine for your needs within that budget. The good news is that the entire range of ride on mowers by John Deere are reliable, durable, intuitive and unrivalled in quality and design.
For commercial customers, John Deere offer finance options with good rates, which can open up more options for your business. These options can be discussed with Powercut staff.
Finding the right ride on lawnmower for you
With the quality and range of John Deere ride on mowers we know that there is a ride on mower out there for every lawn mowing need. Each of our knowledgeable staff have the same goal – to help you find the best machine to fit within your desired perimeters of lawn finish, area size and budget.
Most importantly, we are determined to give the right advice. We want the customer to have the right machine for them, not the one we happen to have in stock at the time they visit our business.
Giving sound advice is one of our key values and that is why our customers keep coming back.
Why don't you pop by and discuss your lawn mowing needs with one of our John Deere experts?