The super six John Deere lawn mowers for landscape contractors
A John Deere mower means the best in power, performance and quality.
But the question is – which John Deere mower is right for you?
To find the right, reliable mower for your business a number of factors need to be considered. What size landscapes do you work with? What types of landscapes? What sort of environment do you work in? What is your budget?
Efficiency is key to any business from a time and budget standpoint. A ride on can cover a larger area in a fraction of the time a walk behind mower would, but, if you're tackling tricky slopes or delicate edges, a walk-behind mower may be exactly what you need.
Whatever your mowing needs, here are our super six of John Deere mowers:
Best walk behind mower – JX90CB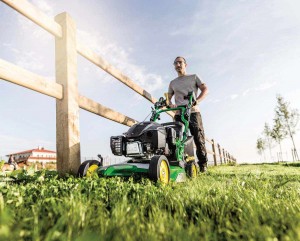 Smaller, delicate areas or steep garden slopes will need the precision offered by a walk-behind mower. John Deere's range of tough, commercial grade walk-behinds are designed for fatigue-free operation all day long. Just like you, they're not afraid of hard work.
Their advanced engineering means you can enjoy corrosion-resistant aluminium decks and an anti-vibration system across all models.
A lot of your decision will come down to size and budget but our favourite model is the JX90CB with its Blade Brake Clutch (BBC). This stops the blade but not the engine, making it much easier to move your machine from A to B, saving you time and making life just that little bit easier.
Best zero turn mower – Z997R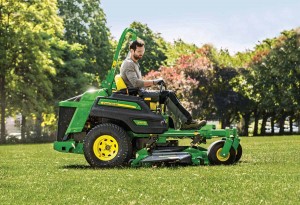 John Deere's Z997R offers incredible manoeuvrability. At least 20% faster than a front mower, it saves you time every time you use it, and its outstanding quality will give you years of productive service.
Not only does it have a maximum power of 28.6 HP (21 kW) and a three cylinder diesel engine but the ease of control is unrivalled. With padded grip control levers, simply press a switch to raise or lower the mower deck and disengage the blades, or conveniently adjust the cutting height using the control panel.
As an added bonus, you can work in comfort with a high back chair, adjustable armrests and suspension seat that adjusts to your weight and personal preferences.
Best front rotary mower – 1585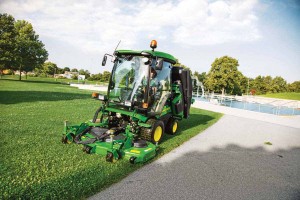 For a fast, quality performance, John Deere's 1500 series TerrainCut commercial front rotary mowers deliver an outstanding combination of speed and cut quality.
The exceptional 4WD system uses a mechanical axle and has a differential lock as standard meaning kerbs, slopes and slippery grass are no problem. This along with their high capacity 7-IRON decks and efficient high torque diesel engines means they can mow thick grass at high speed and still produce enviable cut quality.
In addition to mowing, their 60" front blade can be fitted instead of the mower deck to tackle a whole host of additional activities.
The top of this range is the 1585 which boasts a 38.2 HP (28.1 kW) engine, cutting width of 60 or 72 inches, a 60 litre fuel tank for up to 10 hours non-stop mowing, and the option of a 600 or 900 litre grass and leaf hydraulic collection system.
Best wide area rotary mowers – 1505/1515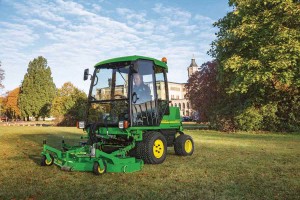 If you want to make light work of long, dense grass or uneven terrain, you would be hard-pressed to beat the 1505 and 1515 wide-area rotary mowers.
Their powerful 4-cylinder engines and hydraulic mower decks ensure swift and great cutting performance in any conditions while the adjustable steering wheel, air-suspended comfort seat, optional comfort cab (think air conditioned / heated, quiet, spacious working) and ergonomic CommandArm armrest with finger trip controls makes for happy operators too.
Best diesel mowing tractors – X700 series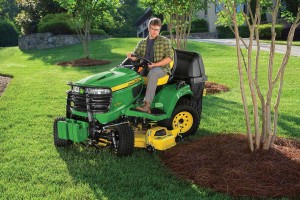 John Deere's diesel mowing tractors provide the perfect combination of performance, ease of use and comfort. They deliver uncompromising reliability and productivity for years on end, and with higher uptime and lower operating costs, you profit from steady, predictable profitability as well as a consistent high performance.
We couldn't select one model because which of the X700 models you go for will depend on whether you need 2-Wheel Drive, 4-Wheel Drive or 4-Wheel Steer. Road homologation is also an option available to the X750 and X758 should you require to use it on public roads.
In addition to precision mowng, the right attachment helps bring driveways and paths up to standard, and the optional MCS 580 material collection system collects grass clippings while you go before letting you dump them quickly.
Diesel mowing tractor X950R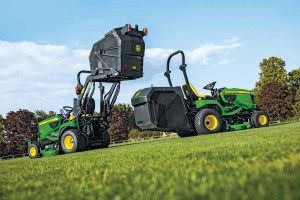 The top of the range X950R mowing tractor has a forward speed of 16.1 km/h and cruise control. A full welded steel frame; a commercial grade, stamped steel mower deck; a high torque, 3-cylinder diesel engine; and heavy-duty wheel motors offers unrivalled strength and performance.
Its operations are simple with a multi-function lever giving you fingertip control, and great ergonomics allowing for operator comfort too.
Advanced 'tail follows trail' technology means mowing near fences, walls or other obstacles is easy and safe.
With high and low dump options, a 650 litre capacity collector, and optional road homologation kit or rear deflector, this mowing tractor means business for your business.
These super six are just a glimpse of the extensive John Deere mower range. You can find the full range of John Deere commercial mowing equipment on their website and Powercut's specialist staff are on hand to help you make the right decision for your business.