Trimax FlailDek FX 135
List Price
£6,420 ex. VAT
1 in stock
Enquire
Get a quote
The Trimax FlailDekFX offers a high performance alternative to the standard factory-fitted rotary mowing attachments found on out-front tractors.
| | |
| --- | --- |
| Brand | |
| Category | |
| Cutting Diameter | |
See detailed specification
Part Exchange is available on this product. Call us for more information.
Interested in this product? Call us on 01267 235 625.
Alternatively, pop in your detais below, and we'll get back to you as soon as we can.
Features
Specs
Brochure
Video
Trimax flail technology for our front operation
The Trimax FlailDekFX offers a high performance alternative to the standard factory-fitted rotary mowing attachments found on John Deere, Kubota, Iseki, New Holland, Shibarua and Hustler out-front tractors. The ability to deliver an exceptionally clean cut and disperse clippings safely. FlailDekFX is suitable for sports grounds, roadsides, schools, parks and other fine turf operations.
Talk to us today about the capabilities of FlailDekFX in your environment
3 Year Warranty
We aim to build mowers that last and we back this up by a 3 year warranty which also includes the spindles and gearboxes. Our robust design coupled with our experienced service and support network ensure minimum downtime and more productivity.
Unique Converter™
Trimax's unique and Patented Converter feature when lowered allows superb short grass cutting ability be creating airflow that lifts the grass before it's cut. For work in heavy environments the Converter can be quickly lifted allowing more grass to be processed within the mower to increase productivity.
Rear Roller
The full width rear roller prevents unsightly scalping and permits the edge of the mower to be run along kerbs and banks without fear of blade strike. The roller also adds to overall safety and produces a brilliant striping effect for those wishing to pattern their turf.
Power Saving Blades
One of the many secrets of the FlailDekFX's success is the exclusive Trimax Gamma™ flail. Formed from high tensile alloy steel and hardened for long life, the straight cutting edge produces a perfectly even cut. The aerodynamic profile reduces horsepower requirements, yet generates sufficient draught to prevent clogging, and lifts the grass for a clean cut. The low power requirements are a huge advantage, especially in heavy conditions.
Options
Y-Flails
Y-flails are available for use in dry and dusty conditions.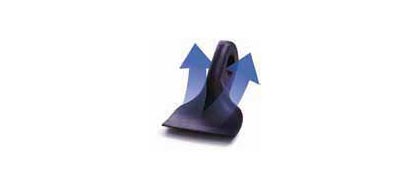 Fitted with Gamma Flails™
Trimax's exclusive Gamma™ Flail offers a perfectly uniform cut with clippings finely chopped and dispersed behind the mower. The aerodynamic design reduces horse power requirements by ensuring that power is used for cutting grass rather than pumping air.
Power Source
Engine Manufacturer:
Power (HP):
Power (KW):
Cylinder:
Cooling:
Starting:
Transmission
Type:
Drive:
Differential Lock:
Steering:
Power Steering:
General Specifications
CAB:
Seats:
Overall Length:
Overall Width:
Height:
Weight:
Power Tipper:
Attachment:

Yes

Transport Width (MM):
Lift Capacity (KG):
Minimum Horsepower Required (HP):
Handheld Type:
Cutter Type:
Handheld Collection:
Other 1:
Other 2:
Other 3:
Other 4:
Other 5:
Mowing Detail
Machine Type:

Front Mount

Mower Type:

Flail

Material Discharge:
Collection:
Mulch:
Working Width (MM):
Working Depth (MM):
Max Length (MM):
Max Depth (MM):
Capacity:
Cutting Width (IN):

54

Bar Length (MM):
Want to know more? Call us on 01267 235 625
Can't find what you're looking for?
Sign up to our alerts service and get details of all used equipment by email