Tracmaster BCS 770HY – Two Wheel Tractor
List Price
£4,895 – £5,945 ex. VAT
The BCS 770HY is the newest addition to the BCS Two Wheel Tractor range and features a hydrostatic drive that can be continuously adjusted with two-speed ranges.

See detailed specification
Part Exchange is available on this product. Call us for more information.
Interested in this product? Call us on 01267 235 625.
Alternatively, pop in your detais below, and we'll get back to you as soon as we can.
Features
Specs
Brochure
Video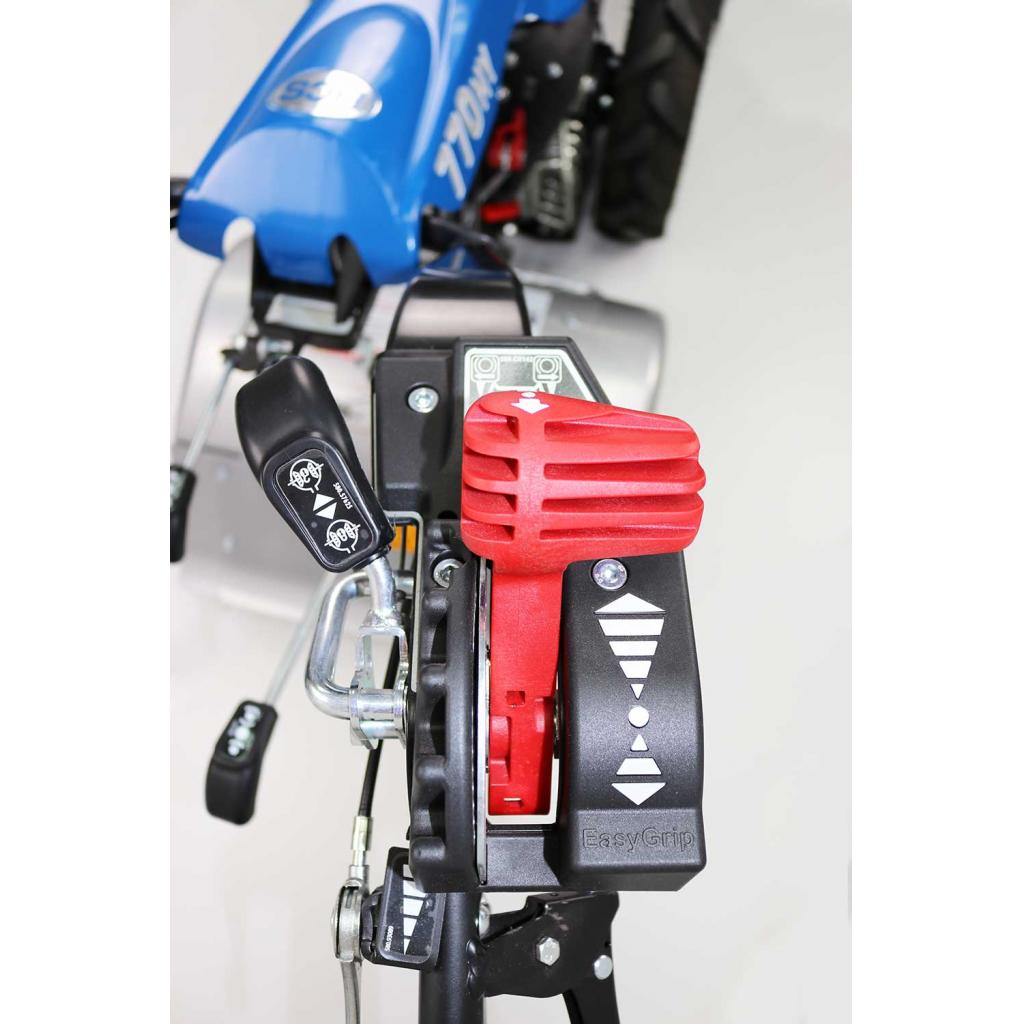 Why the BCS 770HY Two Wheel Tractor?
Like all BCS machines, the BCS 770HY is very simple to operate and features the patented BCS PowerSafe® clutch that stops both the drive and implement when you let go of the operator presence lever. It does this without stopping the engine and in our opinion this makes the BCS Two Wheel Tractor the safest machine available in the world today.
The 770HY is the only machine in the range that has a hydrostatic drive. The ergonomic control lever is conveniently located on the handlebar ensuring maximum operator comfort during use, especially when the application involves many direction changes.
The BCS 770HY is also fitted with a locking differential and steering brakes for complete operator control, whilst large 5.00 x 10 wheels give you the traction you need whether you are on wet mud or icy pavements.
The range of implements available, coupled with the power of the BCS 770HY, will enable you to undertake a wide range of work. Rotavate in spring, cut grass in summer, chip wood in autumn, and clear snow in the winter.
If multiple attachments are in use the optional implement quick coupling is useful.
Implements and Attachments

The BCS Two Wheel Tractors are supplied as power units only so that you can choose the implements required.
Cultivator Kit
Dozer Blade
Duplex Laser® Scythe Cutter Bar
Duplex Scythe Cutter Bar
Flail Mower
Hay Rake
Laser® Scythe Cutter Bar
Mini Baler
Power Brush with Optional Collector
Power Harrow
Power/Snow Brush
Precision Depth Roller
Reversible Plough
Rotary Mower
Rotary Plough
Rotavator
Single Furrow Plough
Snow Blower
Snow Plough
Stone Burier
Stump Grinder
Tined Cultivator
Trailed Ridger
Wheel Barrow
BCS 770HY Engine
Model
Honda GX390
Yanmar LN100
Fuel
Petrol
Diesel
Net Power Output
11.7hp / 8.7kW
@3600rpm
9.0hp / 6.7kW
@3600rpm
Starting
Recoil or Electric
Recoil or Electric
Fuel Tank Capacity
6.1L
5.5L
Fuel Consumption
3.5L per hour
@3600rpm
2.1L per hour
@3600rpm
BCS 770HY Power Unit
No of Speeds
2 ranges – slow & fast
Speeds
Slow:
Up to 4.3km per hour
Fast:
Up to 6.4km per hour
Brakes
Steering brakes
Parking brake
Differential
Locking differential
Wheels
5.00 x 10 agricultural
Weight
Honda GX390:
138kg
Honda GX390 (electric):
142kg
Yanmar LN100:
158kg
Yanmar LN100 (electric):
166kg
Dimensions
Length:
200cm
Width:
75cm (at handlebars)
58cm (at wheels)
Height:
120cm
Warranty
Domestic use:
3 years
Commercial use:
2 years
A Tool for Life
Whether you are a homeowner looking to cultivate your vegetable patch or a landscaper trying to expand your business, BCS Two Wheel Tractors have a solution for you.
Build Quality
You will quickly find that BCS Two Wheel Tractors offer unmatched performance and reliability. An all gear drive system and top of the range engines are just two of the features that reflect the superior build quality.
Functional
As a dependable working tool, you will find that BCS Two Wheel Tractors are unrivalled in their versatility and functionality.
There are four models within the BCS range, some of which can be fitted with over 25 working implements. This means a huge variety of different types of work can be undertaken.
The versatility of BCS Two Wheel Tractors also means they offer excellent value for money, as they take the place of many single-purpose machines.
In fact, many owners find themselves using their BCS Two Wheel Tractors for decades before passing them on to family members for further use.
You can be confident that your BCS machine will not only meet your demands but will save you considerable time and effort.
Built from the ground up…
The results speak for themselves, and once you have seen what can be achieved you will wonder how you ever managed to cope without your BCS Two Wheel Tractor.
Want to know more? Call us on 01267 235 625
Can't find what you're looking for?
Sign up to our alerts service and get details of all used equipment by email