John Deere R47VE
List Price
£1,085 ex. VAT
1 in stock
The John Deere R47VE is a 47cm walk behind mower featuring variable speed drive and electric start. Simply turn the key and away you go.
| | |
| --- | --- |
| Brand | |
| Category | |
| Cutting Diameter | |
| Fuel Type | |
See detailed specification
Part Exchange is available on this product. Call us for more information.
Interested in this product? Call us on 01267 235 625.
Alternatively, pop in your detais below, and we'll get back to you as soon as we can.
Specs
Features
Brochure
Video
Power Source
Engine Manufacturer:

Briggs & Stratton with Ready Start

Power (HP):
Power (KW):

2.8

Cylinder:
Cooling:
Starting:

Key
Transmission
Type:
Drive:

Variable-Speed

Differential Lock:
Steering:
Power Steering:
General Specifications
CAB:
Seats:
Overall Length:
Overall Width:
Height:
Weight:
Power Tipper:
Attachment:
Transport Width (MM):
Lift Capacity (KG):
Minimum Horsepower Required (HP):
Handheld Type:
Cutter Type:
Handheld Collection:
Other 1:
Other 2:
Other 3:
Other 4:
Other 5:
Mowing Detail
Machine Type:
Mower Type:
Material Discharge:
Collection:

Standard

Mulch:

Optional

Working Width (MM):

470

Working Depth (MM):
Max Length (MM):
Max Depth (MM):
Capacity:

65

Cutting Width (IN):

18.5

Bar Length (MM):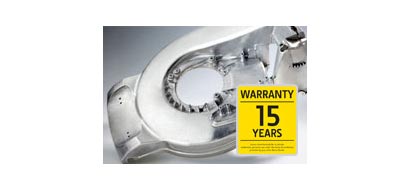 Aluminium Deck
The robust mower deck is made of die-cast aluminium. It's lightweight, won't rust and comes with a 15-year* warranty for even greater peace of mind.
*on our aluminium decks, in private residential, personal use under the terms and conditions provided by Powercut.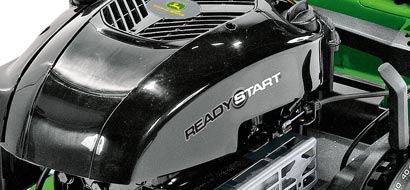 Ready to Go
Most Select Series models use proven, reliable four-stroke ReadyStart® petrol engines. ReadyStart® is a mechanism that automatically senses engine temperature and adjusts the air/fuel mixture to suit conditions perfectly. Even on chilly mornings, they start straight away – thanks to an automatic choke systems that works just like the one in your car. No hassles. No guesswork. No worries.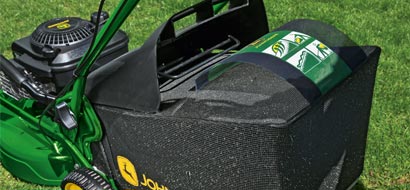 Bagger Fill Level Indicator – Empty
No spills: a practical indicator tells you when it's time to empty the grass collector.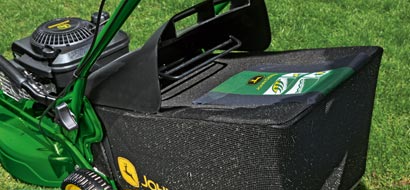 Bagger Fill Level Indicator – Full
The bagger is full when the ribbon is taught.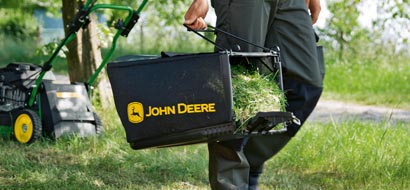 Optimal Bag Fill
To make the most of your bag's capacity, the TurboStar System fills it from back to front using the powerful air vacuum created by the integrated fan.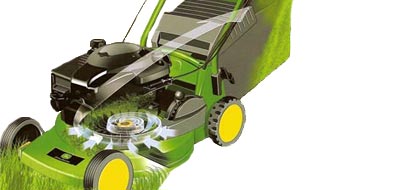 TurboStar System
Whatever the weather, the proven TurboStar System ensures a precision cut and great collection every time. Even in damp conditions, the integrated fan works like a vacuum cleaner to draw grass blades up straight before cutting; it also removes leaves from your lawn. After cutting, the same air vacuum blows the clippings into the collection bag smoothly and efficiently. The TurboStar Signal alerts you in good time when the bag is almost full.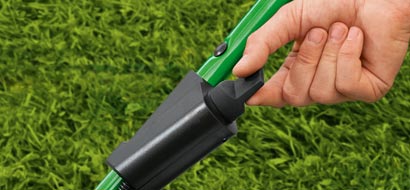 Electric Key Starter
Forget about cords and recoil systems. To start your new John Deere, all you do is turn the key. In seconds, you're ready to mow – safely and conviently.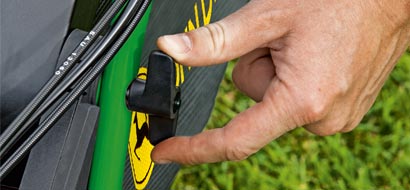 One Size Fits All
The handlebar height adjusts easily for greater mowing comfort, allowing you to tailor the machine to the individual operator.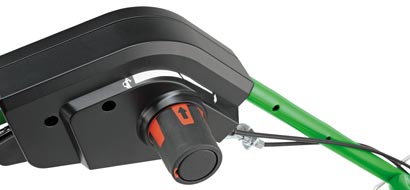 Easy Speed Adjustment
All Select Series mowers let you adjust your speed to suit the terrain and mowing conditions. Many models even have a convenient twist knob that makes life easier still.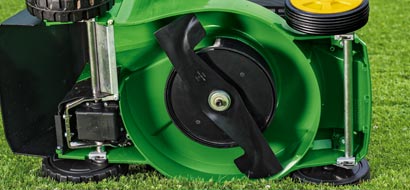 Tempered Spring Steel Blade
The one-piece blade is made of high quality spring steel and manufactured in line with strict production and safety guidelines.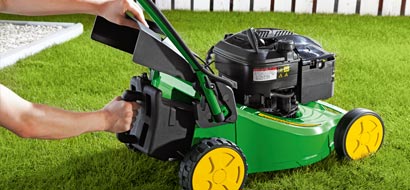 Mulching and Mowing in One
Mulching is the natural way to boost your lawn's vitality and has many other benefits too. We offer optional mulching kits for nearly all John Deere lawn mowers.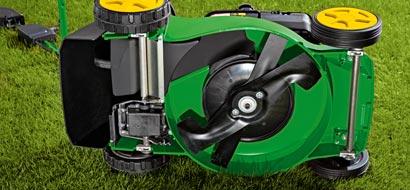 Mulching and Mowing in One
We offer optional mulching kits for nearly all John Deere lawn mowers.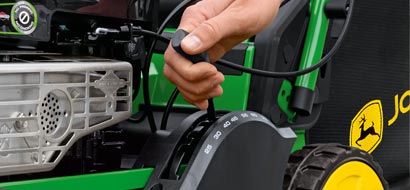 Adjustable Cutting Height
With a choice of six to nine settings (depending on your model), it's easy to adjust the cutting height to different seasons and surroundings with a single lever or button.
Want to know more? Call us on 01267 235 625
Can't find what you're looking for?
Sign up to our alerts service and get details of all used equipment by email