John Deere JS63V
List Price
£696 ex. VAT
1 in stock
The John Deere JS63V is a dedicated variable-speed mulching mower which delivers a premium cut without the need to manually dispose of clippings.
| | |
| --- | --- |
| Brand | |
| Category | |
| Cutting Diameter | |
| Fuel Type | |
See detailed specification
Part Exchange is available on this product. Call us for more information.
Interested in this product? Call us on 01267 235 625.
Alternatively, pop in your detais below, and we'll get back to you as soon as we can.
Specs
Features
Brochure
Video
Power Source
Engine Manufacturer:

Briggs & Stratton

Power (HP):
Power (KW):

3.2

Cylinder:
Cooling:
Starting:

Recoil
Transmission
Type:
Drive:

Variable-Speed

Differential Lock:
Steering:
Power Steering:
General Specifications
CAB:
Seats:
Overall Length:
Overall Width:
Height:
Weight:
Power Tipper:
Attachment:
Transport Width (MM):
Lift Capacity (KG):
Minimum Horsepower Required (HP):
Handheld Type:
Cutter Type:
Handheld Collection:
Other 1:
Other 2:
Other 3:
Other 4:
Other 5:
Mowing Detail
Machine Type:
Mower Type:
Material Discharge:
Collection:

No

Mulch:

Standard

Working Width (MM):

530

Working Depth (MM):
Max Length (MM):
Max Depth (MM):
Capacity:
Cutting Width (IN):

21

Bar Length (MM):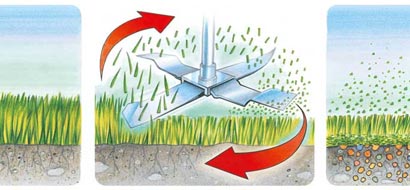 Get your Mowing Done Faster!
Want the same high quality finish in just two-thirds of the time? John Deere mulching mowers are for you. With their specially designed blades and deep dome mower deck, they chop clippings small enough to be returned to the ground. There's no need to empty the grass collector – and less need for artifial fertilisers that can burden the environment.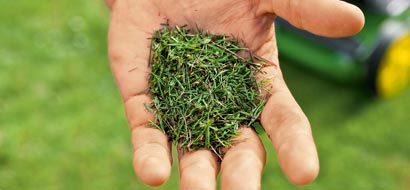 Natural Goodness
The nitrogen-rich clippings are returned to the lawn as natural fertiliser. This prevents loss of nutrients and moisture – and lets you cut back dramatically on artificial fertilisers.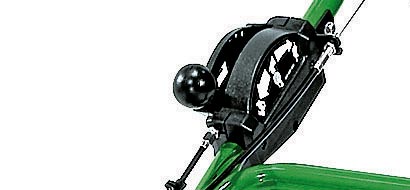 Variable Speed
Both models make it easy to adjust speeds to suit you and your terrain.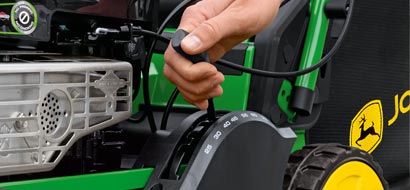 Adjustable Cutting Height
With a choice of six to nine settings (depending on your model), it's easy to adjust the cutting height to different seasons and surroundings with a single lever or button.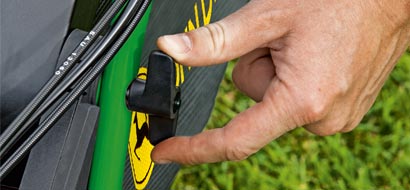 One Size Fits All
The handlebar height adjusts easily for greater mowing comfort, allowing you to tailor the machine to the individual operator.
Want to know more? Call us on 01267 235 625
Can't find what you're looking for?
Sign up to our alerts service and get details of all used equipment by email