John Deere 3033R
List Price
1 in stock
Discover the amazing features of the John Deere 3033R (previously known as JD 3320). See specifications of this powerful and easy to use Compact Utility Tractor.
| | |
| --- | --- |
| Brand | |
| Category | |
| Cutting Diameter | |
| Fuel Type | |
See detailed specification
Part Exchange is available on this product. Call us for more information.
Interested in this product? Call us on 01267 235 625.
Alternatively, pop in your detais below, and we'll get back to you as soon as we can.
Features
Specs
Brochure
Video
Power management for productivity
Never before have tractors this size offered so much power that is this easy to use. A digital performance tracking system, standard 4WD and an amazing LoadMatch electric power management system maximises performance in every application. Comforts like automotive style controls, smooth transmissions, standard high back seats and tilt steering improve your productivity. It's no wonder the 3000 Series outclasses every other tractor in its class.
Feel the comfort
It could be a long, hot, dusty day or it could be cold, wet and freezing. Either way, you don't care, because you're sitting in a John Deere ComfortGard cab. Six adjustable vents are strategically placed to keep you at the optimum temperature, winter, spring, summer or autumn. And this "room" is so tightly sealed; even most dust particles or allergens can't make their way inside. So come in, close the door and enjoy your work.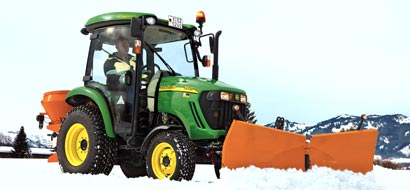 4-Wheel Drive
Standard 4WD lets you dig in when doing loader work or rotary cutting over challenging ground. The heavy duty front and rear axles give you the confidence to handle the toughest jobs.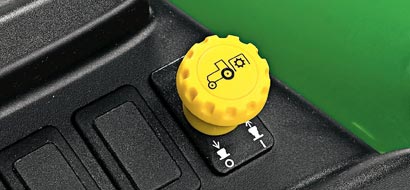 Independent PTO
Engage and disengage PTO independent of other transmission operations and at any ground speed.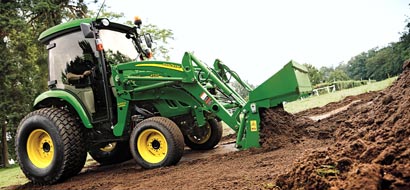 LoadMatch
LoadMatch comes into its own when moving a heavy load or mowing thick grass. It automatically adjusts the transmission speed to engine load so you always have maximum performance without ever stalling the engine. It's easy to operate and your productivity will reach a totally new level.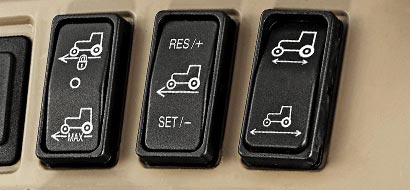 E-Controls
MotionMatch: Adjusts transmission response to the task at hand.
Automotive-Style CruiseControl: provides an infinitely variable speed selection.
SpeedMatch: allows you to set a maximum speed when the pedal is fully depressed. Easy to activate toggle switches located on the right hand control console – precisely where you need them.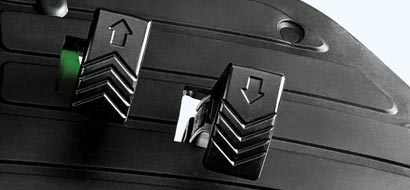 eHydro hydrostatic transmission
Operated by Twin Touch pedals, the exclusive 3-range electronic hydrostatic transmission allows you to perfectly match the tractor's speed to the job.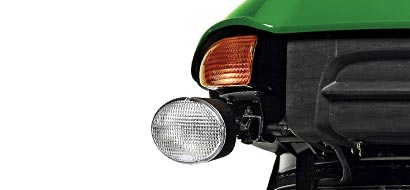 Integrated Work Lights
Work lights are integrated into the top of the cab for extra protection from trees and branches.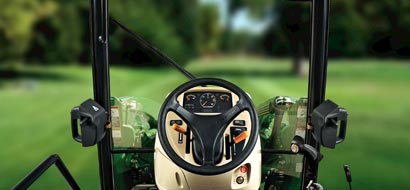 Panoramic View
A combination of a four post Roll Over Protection Structure (ROPS), high seat placement and curved doors gives you a commanding view in all directions.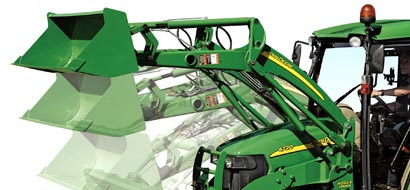 Easier loading
The header bar has been raised for excellent visibility, so you can clearly see the loader all the way to the top of the lift cycle.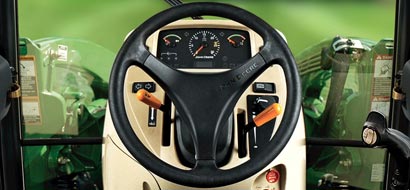 Tilt steering
Tilt adjustable steering lets operators of all shapes and sizes find their perfect position.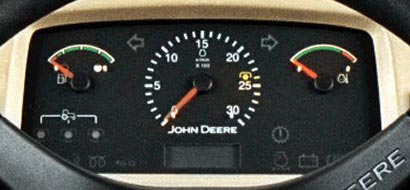 Digital speedometer
Now you can precisely monitor your speed for specific tasks like spraying.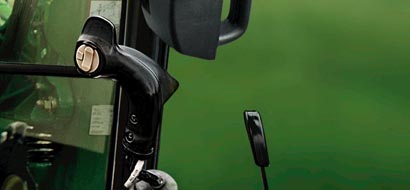 Standard loader joystick
Stays close at hand and clear of your knee. Three hydraulic control valves are standard for faster cycle times.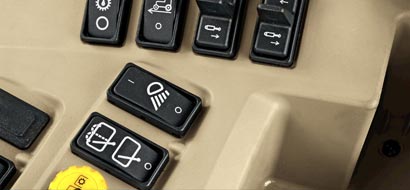 Control console
The right hand control puts all the most frequently used controls at your fingertips.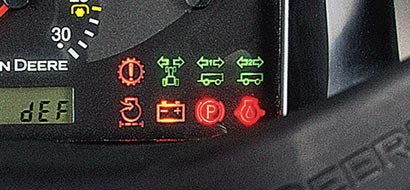 Colour-coded display
Colour-coded icons help you easily monitor the tractor's performance systems at a glance.
Performance Tracking System: Our unique digital Performance Tracking System instantly tells you the status of the vital systems on your tractor.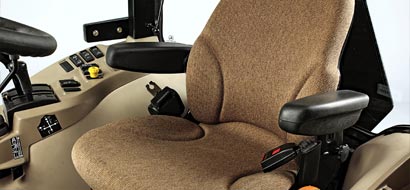 Sit and Enjoy
An optional air ride seat provides superior cushioning and a consistently smooth ride – no matter how rough the terrain.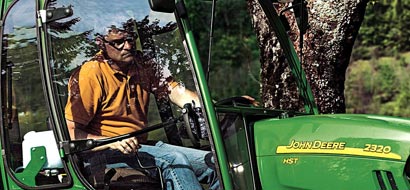 Sound of Silence (AT)
Enjoy a quiet working space with 81 dB(A) for the mid and 79 dB(A) for the large chassis models (according to 77/311/ECC).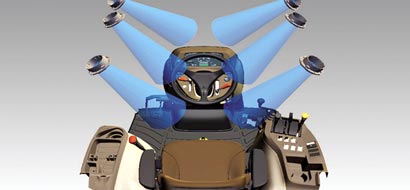 Air Conditioning
Extra large condensers and blowers mean fast, efficient cooling while a 15,000 BTU heater keeps you comfortable in the worst winter conditions. Air-conditioning is standard for all models (except the 1026R and 2000 Series).
Power Source
Engine Manufacturer:
Power (HP):

32.5

Power (KW):

24.2

Cylinder:

3

Cooling:
Starting:
Transmission
Type:

Hydrostatic

Drive:

4wd

Differential Lock:

Yes

Steering:
Power Steering:

Yes
General Specifications
CAB:

Yes

Seats:

1

Overall Length:
Overall Width:
Height:
Weight:
Power Tipper:
Attachment:
Transport Width (MM):
Lift Capacity (KG):

1148

Minimum Horsepower Required (HP):
Handheld Type:
Cutter Type:
Handheld Collection:
Other 1:
Other 2:
Other 3:
Other 4:
Other 5:
Mowing Detail
Machine Type:
Mower Type:
Material Discharge:
Collection:
Mulch:
Working Width (MM):
Working Depth (MM):
Max Length (MM):
Max Depth (MM):
Capacity:

Towing Capacity 4000kg

Cutting Width (IN):
Bar Length (MM):
Want to know more? Call us on 01267 235 625
Can't find what you're looking for?
Sign up to our alerts service and get details of all used equipment by email