BCS 740
List Price
£2,585 – £3,865 ex. VAT
Ideal for large smallholdings, allotment associations, contractors and estates with over 25 attachment options including stone buriers, power harrows, rotary ploughs and flail mowers.
| | |
| --- | --- |
| Hours of Use | |
| Brand | |
| Category | |
| Fuel Type | |
See detailed specification
Part Exchange is available on this product. Call us for more information.
Interested in this product? Call us on 01267 235 625.
Alternatively, pop in your detais below, and we'll get back to you as soon as we can.
Specs
Features
Brochure
Video
Power Source
Engine Manufacturer:

Honda

Power (HP):

11.7

Power (KW):

8.7

Cylinder:
Cooling:
Starting:

Recoil
Transmission
Type:
Drive:
Differential Lock:

Yes

Steering:

Braked

Power Steering:
General Specifications
CAB:
Seats:
Overall Length:
Overall Width:
Height:
Weight:
Power Tipper:
Attachment:
Transport Width (MM):
Lift Capacity (KG):
Minimum Horsepower Required (HP):
Handheld Type:
Cutter Type:
Handheld Collection:
Other 1:
Other 2:
Other 3:
Other 4:
Other 5:
Mowing Detail
Machine Type:
Mower Type:
Material Discharge:
Collection:
Mulch:
Working Width (MM):
Working Depth (MM):
Max Length (MM):
Max Depth (MM):
Capacity:
Cutting Width (IN):
Bar Length (MM):
BCS 740
The BCS 740 is our best selling two wheel tractor. It is the most powerful machine in the range and can be fitted with over 25 different attachments including stone buriers, power harrows, rotary ploughs and flail mowers to name but a few.
Like all BCS machines, the BCS 740 is very simple to operate and features a locking differential and steering brakes for additional control.
The BCS 740 is the ideal machine for large smallholdings, allotment associations, contractors and estates.
The range of implements available combined with the power of the BCS 740 allow you to take on such a range of work that you will soon wonder how you managed to live without it.
Honda Engine Options
Yanmar Engine Options
BCS Two Wheel Tractors
A Tool for Life
Whether you are a homeowner looking to cultivate your vegetable patch or a landscaper trying to expand your business, BCS Two Wheel Tractors have a solution for you.
Build Quality
You will quickly find that BCS Two Wheel Tractors offer unmatched performance and reliability. An all gear drive system and top of the range engines are just two of the features that reflect the superior build quality.
Functional
As a dependable working tool you will find that BCS Two Wheel Tractors are unrivalled in their versatility and functionality.
There are four models within the BCS range, some of which can be fitted with over 25 working implements. This means a huge variety of different types of work can be undertaken.
The versatility of BCS Two Wheel Tractors also means they offer excellent value for money, as they take the place of many single purpose machines.
In fact, many owners find themselves using their BCS Two Wheel Tractors for decades before passing them on to family members for further use.
You can be confident that your BCS machine will not only meet your demands but will save you considerable time and effort.
Built from the ground up…
The results speak for themselves, and once you have seen what can be achieved you will wonder how you ever managed to cope without your BCS Two Wheel Tractor.
Features & Benefits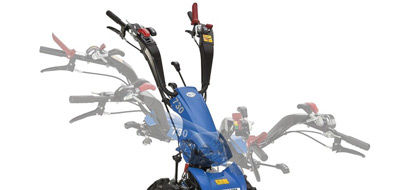 Rotating Handlebars
The handlebar can be rotated through 180°. This allows the two wheel tractor to be used in two directions and increses the number of impliments that can be fitted.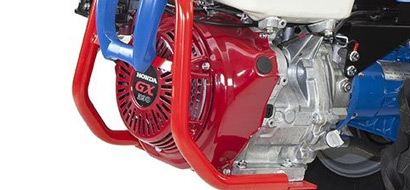 High Quality Engines
Powered by petrol and diesel engines which are considered the most reliable and powerful engines in their classes.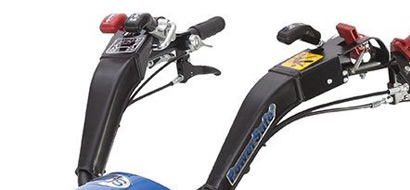 Anti-Vibration Handlebars
Increses operator comfort during machine operation.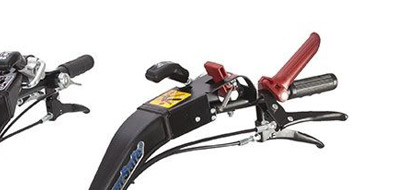 Parking Brake
Allows the machine to be safely left unattended when not in use.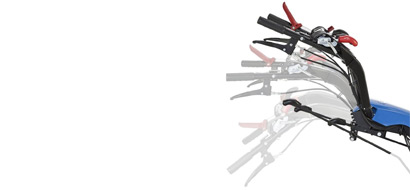 Adjustable Handlebars
The height of the handlebars can be adjusted to suit each individual and maximise user comfort.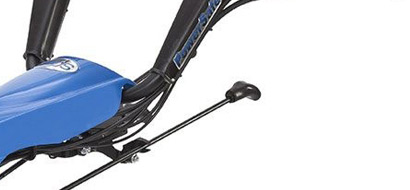 Handlebar Offset
Each machine has a simple method of moving the handlebars from side-to-side, useful when working alongside a hedge, on a slope or cultivating.
Quick Release System
Available as an optional extra enabling implements to be changed in seconds.
PowerSafe® Clutch
Supported by a 5 year warranty, this patented system gives the operator instant control over the machine and implement to ensure maximum safety at all times.
All Gear Drive System
Gears offer superior levels of reliability and durability. Unlike chains and belts that can streth and break.
Three Pin Power Take Off
Strong proven drive connection for added durability.
Differential with lock
Locking the differential on the BCS 738 & 740 increases the traction of the two wheel tractor in difficult terrain, whilst unlocking the differential allows you to turn the machine on the spot.
*Shown pictured with rotavator attachment, for details on all the other implements available see pages 12-14 in the brochure which can be downloaded from the "Video & Brochure" tab above or speak to a BCS expert at Powercut by calling 01267 235625.
Want to know more? Call us on 01267 235 625
Can't find what you're looking for?
Sign up to our alerts service and get details of all used equipment by email