Ambrogio L350I ELITE Robot Mower
List Price
£3,333 ex. VAT
1 in stock
Ambrogio L350i Elite Robotic Lawnmower – Up To 7000m2 – GPS GSM 15Ah Lithium-Ion
The Zucchetti Ambrogio L350i Elite PRO Line Robotic Lawnmower covers Up To 7,000 Sqm and is both attractive in design and full of advanced technology. The new L350i Elite can manage lawns up to 7.000 m² and work for seven consecutive hours while maintaining high mowing performance. The touchscreen display makes programming simple and intuitive. The standard ZCS Connect module ensures safety and ease of use.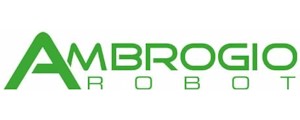 | | |
| --- | --- |
| Brand | |
| Category | |
| Fuel Type | |
| Working Area | 7000 sqm |
See detailed specification
Part Exchange is available on this product. Call us for more information.
Interested in this product? Call us on 01267 235 625.
Alternatively, pop in your detais below, and we'll get back to you as soon as we can.
Features
Specs
Brochure
Video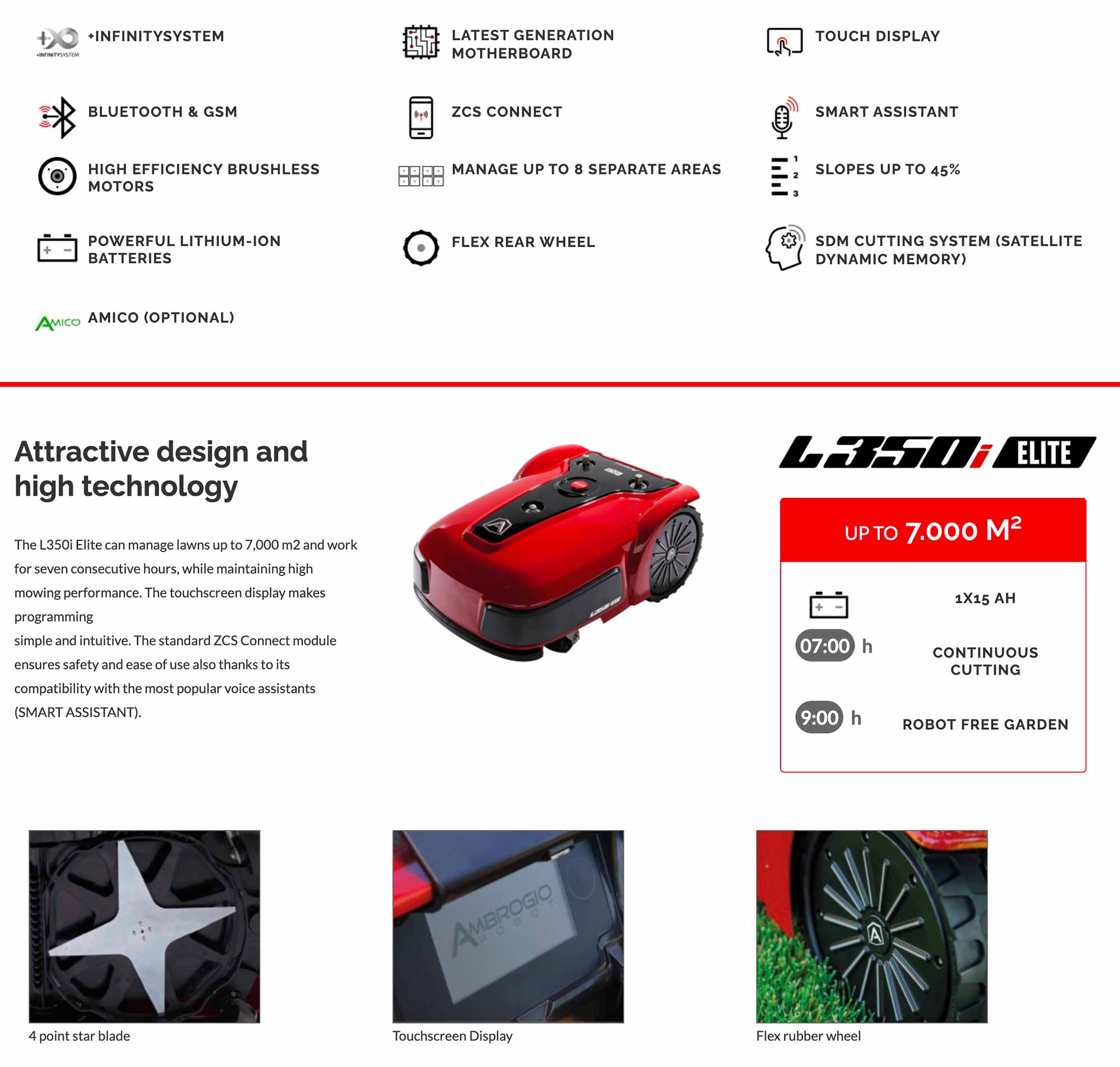 At A Glance – Zucchetti Ambrogio L350i Elite:
* The new L350i Elite is designed to mow lawns up to 7000m2. Regular cutting means the grass is turned into micro clippings which are mulched into the lawn to return essential moisture and nutrients.
* The touchscreen display makes programming simple and intuitive.
* The ZCS module Connect module ensures safety and ease of use.
* Heavy-duty, high-efficiency brushless motors
* 15Ah Lithium-ion battery
* Mow up to 8 separate areas
* Eco mode Sensor
* Recognises the mown areas of lawn and reduce working times to the benefit of the lawn and reduce wear on the robot
* Spiral Cut
* Just as it's able to detect areas of short grass, the L250i Elite can detect areas of long and thick. Once it reaches areas like these, it begins mowing in a spiral to focus all of its efforts, resulting in a perfect and even finish.
* Fully automatic operation; Departs, mows & returns to recharge autonomously
* Super sharp 4 points solid blade
* Close to edge cutting
* ZCS Connect Module
* Connect and interact with your mower at any time, from anywhere (with your iOS or Android smartphone or tablet). Set profiles, verify the location of the robot with GPS, and even set exclusion zones/working areas.
* Advanced GPS anti-theft system
* Set up a geo-fence alarm; get alerted if your mower goes outside a GPS set perimeter.
* Bluetooth
* Allows updating of the software and mowing with a robot at close range in remote control mode; ideal for mowing small unwired areas or moving your robot around.
* 'Smart Partition' Cutting System
* The robot creates and stores virtual maps of the area to be mown and remembers the working times used for each area.
* When the robot is working in an area that has not been mowed for some time, it cuts the grass with a spiral system overlapping with the random cutting.
* Latest generation motherboard; faster processing with lower power consumption
* Integrated rain sensor
Specifications Zucchetti Ambrogio L350i Elite PRO Line Robotic Lawnmower – Up To 7,000 Sqm
Power
Max sq.mt suggested (-20%) 7.000
Average mowing time (+-20%) 7 hours
Motor type Brushless
Lithium-Ion Battery (25,9V) 1 x 15 Ah
Max allowable slope (%) 45%
Max Slope (%) 35%
Slope on the edge or perimeter wire (%) 20%
Recharge mode Contact
Cutting System
Blade type 4 edge solid stainless steel blade
Cutting width of 36 cm
Cutting height of 24-64 mm
Spiral Cutting Yes
Cut Smart Partitions Yes
Self-Levelling 2 wheel drive
Eco Mode Yes
Rain sensor Yes
Maximum managed areas 8
Navigation
Compass system Yes
Connect Module (GPS, GSM) – 1 Yes
Control Devices
User Interface Touchscreen Display
APP Control Bluetooth-GSM
Bluetooth receiver Yes
SMS Alert –
Safety
Lifting/Tip-over sensor Yes
Push/Stop emergency Button Yes
PIN Code No
Standard Equipment for installation
Charging Station Yes
Cover Recharging Base: Optional
Features
Weight with Batteries Incl. (Kg) 18,4
Robot Dimension (lxpxh) 700x480x300 mm
Wheel Profile Flex Rubber
Power Sound – db(A) 69
Level of protection IP44
Latest generation motherboard
Touch Display
Bluetooth & GSM
ZCS Connect
High-efficiency brushless motors
Powerful lithium-ion batteries
Slopes up to 45%
Manage up to 8 separate areas
Rear-wheel
Smart Partition cutting system
2 Year Warranty
Want to know more? Call us on 01267 235 625
Can't find what you're looking for?
Sign up to our alerts service and get details of all used equipment by email