10 places you might find a John Deere Gator Utility Vehicle
With their versatility and reliability, John Deere Gator utility vehicles (Gators) are the ultimate workhorse companion to make many a job easier and more enjoyable. With a wide array of options and low environmental impact, whether navigating across a pristine golf course or thriving on tough terrain, a gator will get the job done without churning up the land and leaving damage in its wake. Here are some of the places you can find the various John Deere Gators at work.
1. John Deere Gators on the farm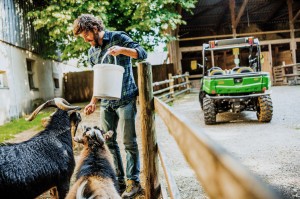 Whether fixing fencing, transporting animal feed or working the land, a gator makes an invaluable companion to the hardworking farmer. We've seen farmers use 4×4 diesel gators like the Gator XUV 855D to travel around wet and cold hill and mountain farms, carrying young cattle or sheep in the back of the Gator or even lifting young lambs in to the cosy, warm cab to help warm them up.
2. John Deere Gators in the garden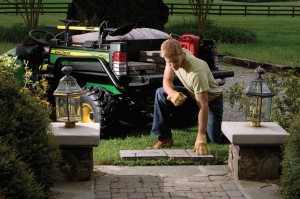 You don't have to have a business to make good use of a Gator. If you have a few acres of private land that you need to look after, whether a smallholding or large garden, Gators are put to excellent use to carry tools and equipment around to help make the job of keeping large grounds in excellent condition a little easier.
3. John Deere Gators in Local Authorities
Council buildings, schools, parks, roadsides, there is no end to the land that comes under the local authority's remit to look after. Carmarthenshire, Pembrokeshire and Ceredigion local authorities all use John Deere Gators to help get the job done.
4. John Deere Gators in Country Parks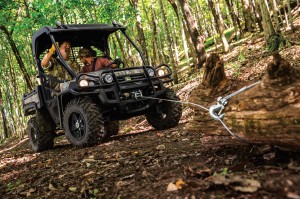 Whether crossing acres of grass or navigating sand dunes, Gators prove invaluable at Pembrey Country Park for maintaining footpaths, fire patrols, beach clean ups and all the numerous jobs the wardens and staff have to manage and maintain the vast, beautiful park.
5. John Deere Gators at large sites
Around the vast sites of Pembroke Power Station and Milford Haven Oil Refinery John Deere Gators prove their worth not just for carrying tools and equipment but also, with some of the XUV models being able to carry 4 people comfortably and safely, for transporting staff from one area to another efficiently.
6. John Deere Gators on the golf course
When out on the golf course it can be easy to take for granted the hard work that goes in to keeping the course pristine. John Deere Gators are used on our local golf courses to help make that hard work a bit easier. Used for transporting golfers, getting sprinklers to where they need to be, digging holes around the course, and a host of other essential jobs, most importantly they travel about the course without causing any damage to the land in their wake so it is in ship shape for play time.
7. John Deere Gators in hard to reach places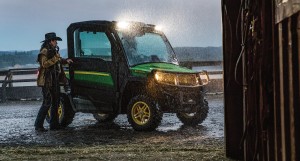 Trinity House is a charity dedicated to safeguarding shipping and seafarers. Gators are used at lighthouses to ferry tools and food for lighthouse keepers over difficult terrain within tidal time limits. Some Gators have even been delivered to lighthouses by helicopter.
8. John Deere Gators with the electricity board
When incremental weather causes power outages, Gators have proved invaluable for Western Power's electrical engineers, linesmen, and their equipment to be transported safely and quickly across fields to find cables that have come down and fix them.
9. John Deere Gators with Welsh Water
Burst water mains can happen anywhere and Gators allow Welsh Water engineers and their equipment to reach places that other larger vehicles can't possibly get to in order to get supplies up and running as soon as possible.
10. John Deere Gators in the military
Whether to transport military personnel and equipment around large camps or navigate tricky terrain, military gators are air dropped behind enemy lines to be put to good use.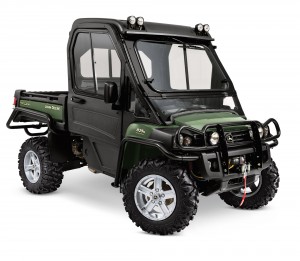 While not everyone will need a military Gator, one thing is for certain – the broad collection of John Deere Gator utility vehicles and accessories are extensive, versatile and exceptionally useful. Add to this the fact that all the Gators have intuitive controls and are comfortable to ride, and you have the ideal vehicle to take the load off your working life. Speak to the professionals at Powercut for more information on how a Gator utility vehicle might transform your workplace.